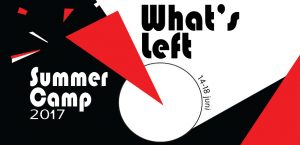 *English language version below – contact us if you can translate the call to other languages!*
Hjärtligt välkommen till What's Left Summer Camp 2017!
Ta in perspektiv från hela det vänsterradikala spektrat, bada och debattera, utmana någon från en annan politisk tendens i karaoke och organisera dig!
What's Left Summer Camp 2017 är ett antikapitalistiskt sommarläger som i år kommer fokusera på det klasslösa samhället, internationalism och feminism. Här kan aktivister och teoretiskt intresserade kamrater delta i omvälvande föreläsningar och runda bords-samtal om vad vi tycker har fungerat bra och vad som har fungerat mindre bra i kampen mot kapitalismens vidrigheter. Lägret riktar huvudsakligen in sig på personer som redan är organiserade i den revolutionära vänstern. Här ges en chans till fördjupning, liksom ett utrymme för rekreation och avkoppling och ett forum att stöta och blöta våra ideér och perspektiv.
Schemat är fullspäckat med intressanta workshops, paneldebatter och diskussioner. Det kommer finnas tillgång till bastu, kanotpaddling, tv-spel och avkoppling i goda kamraters lag. Varje dag arrangeras även träning och teknisk utbildning. Naturligtvis kommer det finnas tid över för spontana möten, självorganiserade aktiviteter och rekreation i det natursköna närområdet. Vi förenar politisk skolning och nätverkande i en stressfri och behaglig miljö och ser detta som en chans att utvecklas som människor och som politisk rörelse.
Tid och plats
Lägret pågår från onsdag kväll till söndag morgon, 14 till 18 juni, och hålls på en fantastisk kursgård precis vid en sjö, bara en kort resa med kommunala färdmedel från Göteborgs centralstation.
Avgift och anmälan
Kursavgiften är på 949 kr. Den som av någon anledning har svårt att betala hela avgiften kan begära vårt rabatterade pris, som är 549 kr.
I priset ingår förutom fyra nätter på kursgården frukostbuffé, lunch, middag och kaffe. Tre näringsrika mål mat om dagen serveras och deltagare får en skön säng att dra sig tillbaka till, samt naturligtvis tillgång till dusch och toaletter. Det kommer även att finnas en kiosk med försäljning av godis, tobak, hygienartiklar till självkostnadspris samt, på kvällen, även förfriskningar. Ta inte med egen alkohol.
Antalet platser är begränsat, så ordna biljettköpet snarast genom att skicka ditt namn, födelesedatum, adress och telefonnummer samt organisationstillhörighet till whatsleftcamp@riseup.net. Den som saknar organisationstillhörighet skriver ett par rader om sig själv och varför man vill delta. När vi har tagit emot er anmälan via mejl återkommer vi med mer information.
Om arrangörerna
What's Left Summer Camp arrangeras av What's Left-kommittén, som i sin tur består av en rad utomparlamentariska vänstergrupper som har bestämt sig för att tillsammans anordna världens mest givande och roliga sommarläger för alla revolutionära kommunister och feminister. Om du eller din organisation också vill hålla i en programpunkt på lägret, kontakta whatsleftcamp@riseup.net före 31 mars. Skriv "schemagruppen" i ämnesfältet.
What's Left Summer Camp 2017 blir det första i sitt slag, förhoppningsvis början på en årlig tradition, och vi välkomnar hjärtligt alla kamrater och sympatisörer till den revolutionära vänstern att delta. Sprid gärna detta vidare utanför Sveriges vidriga gränser och kontakta oss med alla frågor. Mer information följer!
**************** ENGLISH *********************************
Welcome to What's Left Summer Camp 2017!
Meet a wide range of ideas and perspectives from the radical left, go swimming and participate in debates, challenge a comrade from another political tendency in a battle of karaoke, and get organised!
What's Left Summer Camp 2017 is an anticapitalist summer camp, this year focusing on the classless society, internationalism and feminism. Activists and theoretically interested comrades will meet and take part in inspiring lectures and panel discussions on what works and doesn't in our common struggle against the ills of capitalism. The camp is primarily intended for those already organised in the revolutionary left. We're offering a space for furthering our political understanding, for recreation and relaxation, as well as a place to let our ideas and perspectives meet.
The agenda is packed with interesting workshops, panel discussions and discussions. Additionally, participants will have access to sauna, canoeing, video games and relaxation in the company of our comrades. There will also be daily physical activities and technical classes, as well as time available for spontaneous meetings, self-organised get-togethers and recreation in the scenic surroundings. We're combining political education and networking in a stress-free and comfortable environment and see this as an opportunity to move forward as human beings and as a political movement.
Time and place
The camp will be held June 14 to June 18, on a fantastic conference centre/retreat next to a lake, not far from Gothenburg central station, in western Sweden. There is public transport to and from the location.
Signing up
Tickets cost 949 SEK (100 EUR). Those unable to pay the full cover fee can request the discounted ticket price, 549 SEK (57 EUR).
The price includes four nights at the conference centre, breakfast buffet, lunch, dinner and coffee. Three nourishing meals a day are served, and participants have their own bed, as well as access to showers and bathrooms. Snacks, tobacco and hygiene products will be sold in a kiosk and, at night, refreshments. Do not bring your own alcohol.
There are a limited number of tickets, so secure yours as soon as possible by sending your name, birth date, address and phone number, as well as what organisation you are a member of, to whatsleftcamp@riseup.net. Unorganised? Write a few lines about yourself and why you want to participate. More information will be sent out once you've sent us your application.
About the organisers
What's Left Summer Camp is organised by the What's Left Committee, which is made up of a number of radical left-wing groups in Sweden, who has come together in order to create the best and most rewarding summer camp ever, for every revolutionary communist and feminist. If you and your organisation want to suggest an item for the camp's agenda, email whatsleftcamp@riseup.net before March 31. Write "schemagruppen" in the subject field.
What's Left Summer Camp 2017 is the first event of its kind and hopefully the start of a yearly tradition. We're extending a warm welcome to all comrades and sympathisers of the revolutionary left joining the camp. Feel free to spread this call internationally, and contact us with any further questions.